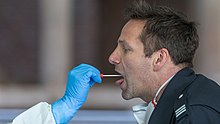 Mass Development of Testing Kits for COVID - 19
Laboratory testing for the respiratory COVID-19 Disease includes methods that detect the presence of virus and those that detect antibodies produced in response to infection.

Detection of antibodies can be used both for clinical purposes and population surveillance.

Development
Many Countries including India, USA and South Korea have developed their own testing kits.

South Korea was the first country to develop a kit and USA for now has the fastest detection Kit.

With high populated countries like India, there is a need for Mass Development of these kits for the satisfaction of their People.